Home Hikes Musconetcong Gorge Preserve, Hunterdon County, NJ Spring
Musconetcong Gorge Preserve, Hunterdon County, NJ
Early Spring - April 6, 2021
Information on the Musconetcong Gorge Preserve, Holland Township. 182 Dennis Road Bloomsbury, NJ 08804 : general information and trail map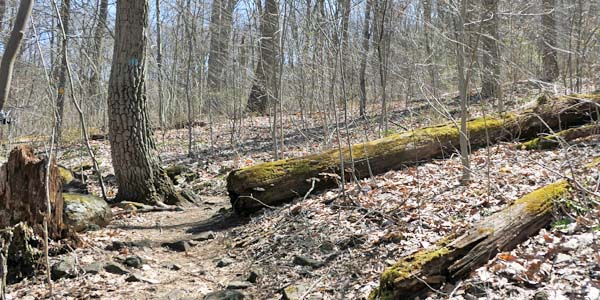 It was a great day and nice to get out. It's early spring so most plants have not leafed out and even fewer plants will be blooming.
We did a loop starting on the highlands trail, then downhill to the river and back by the orange trail. We got lost and wandered around in the downhill section looking for the orange trail to head back to the parking lot.
The trail may look bare and brown, but over there was a stunning white bloodroot (Sanguinaria canadensis). I needed to get down and get a photo. Oh, another one over there too! I needed to get another photo. They kept calling me - " I'm exquisite with fresh pristine white petals and brilliant yellow anthers smiling up at you". So 'click' another photo and more. Why so many photos now- we even have them in our back yard! It is because it is really thrilling and exciting to see so many bloodroots growing wild and free. We are thankful for the very many people that have worked hard to preseve places like to this.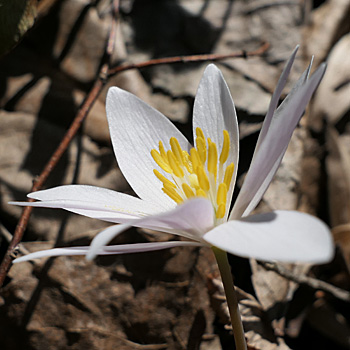 This is the time for bloodroots before most of the other spring flowers are out. There were plenty sprinkled along the highlands trail and down by the tributary, there was a large patch. We rarely go for hikes so early in spring so we generally see only a few bloodroots on the trail. Learn more about the bloodroots and their life cycle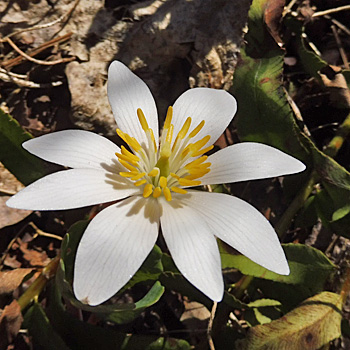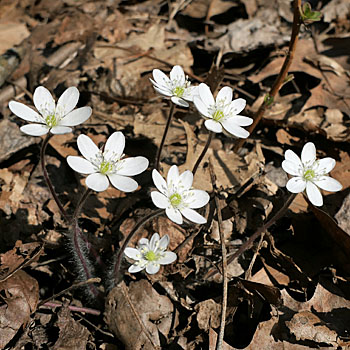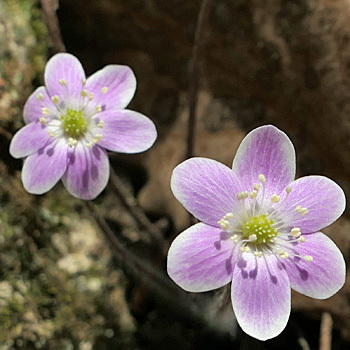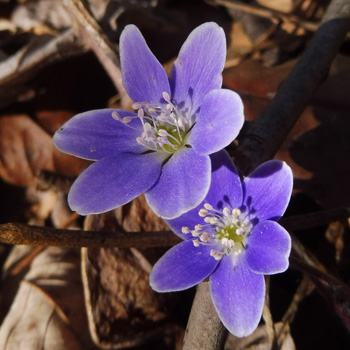 Another highlight of the trip were the pretty round lobed hepaticas (Anemone americana) among the leaf litter. They kept our cameras going. Notice the white edges on the delicate pink and blue flowers. Learn more about the hepaticas
We saw a few rue anemones (Thalictrum thalictroides). It is a bit early for them.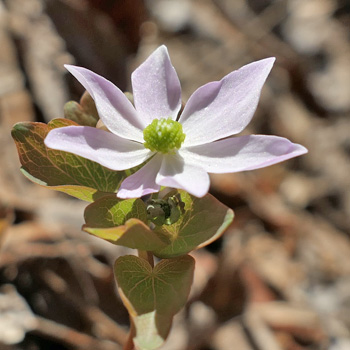 The spicebush (Lindera benzoin) flowers are just beginning to bloom . See closeups of the male and female spicebush flowers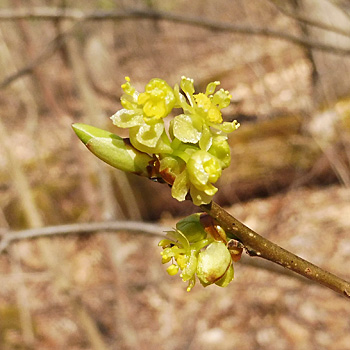 We finish our plant list with - trout lily leaves, mountain laurel leaves, christmas fern, common polypody fern, and dried up remains of last year's squawroot, virginia pennywort, spotted wintergreen leaves.

Last May we visted this area and it had a nice population of native plants. When I have time I will write a trip report.
Text by Millie Ling and photo by Hubert & Millie Ling