Welcome to Awesome Native Plants
SPRING is HERE
Cutleaf Toothwort - Cardamine concatenata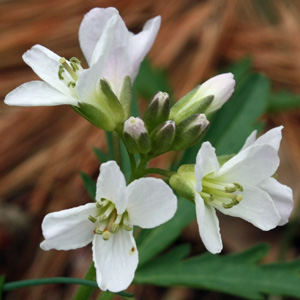 The toothworts are true spring ephemerals. There are 4 toothworts native to NJ. The flowers are similar. The toothworts have both cauline leaves (leaves along the plant/flower stem) and rhizomal leaves (leaves that emerge separately from the rhizomes). It is these leaves that distinguish between the species. Read about them here.. With hiking season here, please don't pick or eat our plants: see our Please Don't Eat The Wild Turnip!
NEW - Plant Profile & Photo Page
Slender Toothwort - Cardamine angustata
Cardamine angustata is rare in NJ, although globally secure. It is differentiated from other toothworts by its cauline and rhizomal leaves. They are different in shape. It's flowers are similar to the other toothworts. Slender toothwort is a true spring ephemeral, blooming before the overhead leaves come out and gone by summer. Read about them here.. Start thinking spring Spring Plant Profiles & Photos
Time to think SPRING
Time to plan your Spring hikes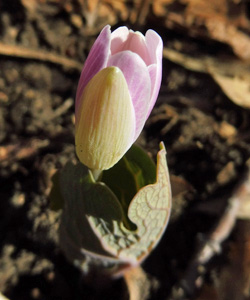 Bloodroot (Sanguinaria canadensis) blooms early in spring and is not a spring ephemeral. It has healthy leaves well into summer. Flowers last at most 4-5 days. Read about its life cycle Click here. In central Jersey, they generally start blooming early April. One year we did it right and saw lots of bloodroots and round leaf hepaticas too. See our trip report.
See our Spring Plant Profiles & Photos

BLOOMING NOW
What is this?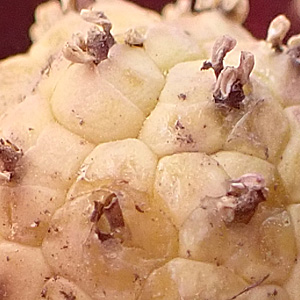 These are flowers of the skunk cabbage with stamens and pistils and tepals. It is in bloom now. You have probably seen them a lot. Not beautiful but interesting. Surely you will find something new if you : Click Here.
Also See 'Gardener News' on skunk cabbage
Start thinking spring, see our Spring Plant Profiles & Photos
About AWESOME NATIVE PLANTS
This is the website of Millie & Hubert Ling. This site was created in September 2021 and is is dedicated to Native Plants mainly of New Jersey with a focus on the Plant Profiles & Photos pages. The goal here is to continue these. Also we will be adding trip reports of our many hikes in NJ. Hubert is a regular writer for the Gardener News and we will be republishing some of his articles. Continued in 'About Us': Click Here
WHY all the FUSS about NATIVE PLANTS?
What are they and why they are important?. Get the definitions and why they are important and how to find out if a plant is native or not: Click Here in our 'Resources" section.
Looking around in NATURE: HIKES
Start planning where to hike for next year. NEW: Added: a list of conservation organizations that have preseves which are great places to see native plants. Click Here
BEAUTY and BEYOND
Get to know your native plants. Visit our Plant Profiles & Photos section for photos of not only the beautiful flowers but also their parts and what makes them work.
'GARDENERS NEWS' reprints
Hubert Ling as NPSNJ horticulture has been writing articles for 'Gardener News' since 2015. Some of his articles are being reprinted here. See them at Resources .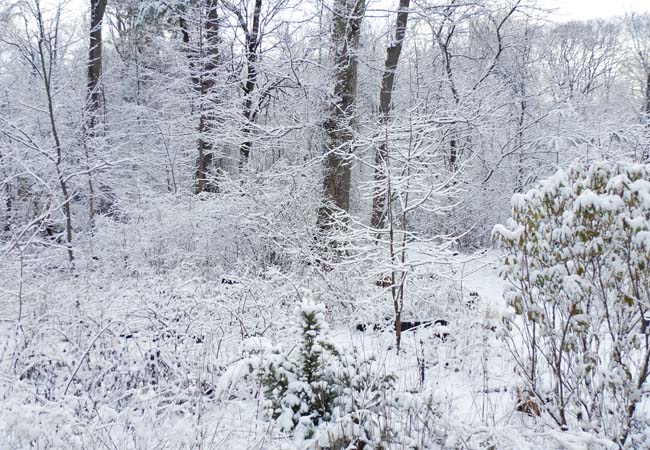 Last snowfall - short lasting

All things bright and beautiful,
All creatures great and small,
All things wise and wonderful,
The Lord God made them all.
(Anglican hymn)

Study and photography unfolds a whole new dimension of intricacies and interdependencies that commands deference and awe.
"The Lord God made them all"