Ilex verticillata, winterberry holly, is a upright native deciduous multi-stemmed shrub. Winterberry holly blooms late spring to early summer. The fruit matures in late summer and persists through winter. This is one of the 3 common species of holly in NJ It is one of the 3 common species of holly in NJ; the other two are Ilex americana (American holly), and Ilex glabra (inkberry holly)..
Flowers
Ilex verticillata (winterberry holly) plants are almost always dioecous: plants have only male flowers or female flowers. The only way to distinguish between male and female plants is by their flowers. The individual flowers are inconspicous about a quarter inch across. They are greenish to yellowish white and form at the leaf axils along new branches. The flower stalks, pedicels, are very short. The number of flower parts - petals, sepals, and stamens, is variable in the order of 4 to 8. The flowers appear after the leaves emerge.
Female (pistillate) flowers: Fertile pistil, sterile stamens
The winterberry holly female flowers form clusters of 1 to 3 flowers at the leaf axils along the branch.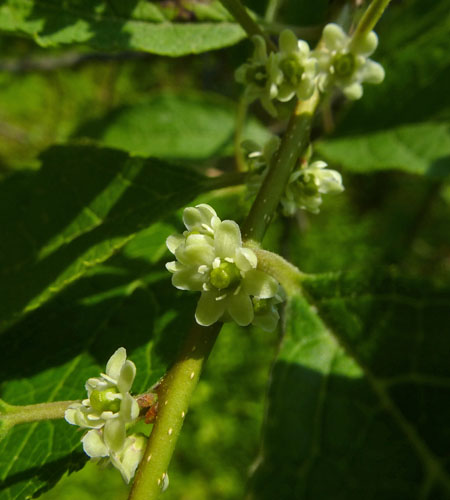 A cluster of 3 flowers. These flowers have 6 petals and 6 stamens. The stamens are modified, non-functional, and sterile.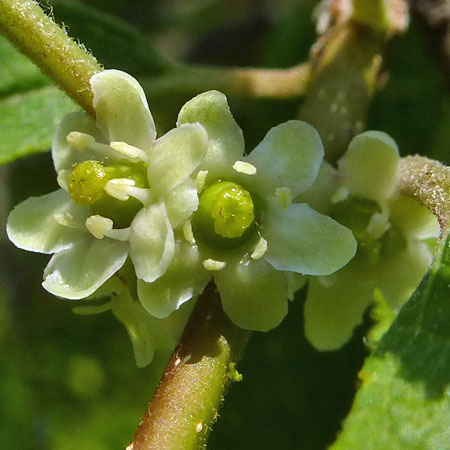 The fertile greenish pistil is in the center with a large globular ovary and a sessile stigma (shiny cap on top). There is no apparent style.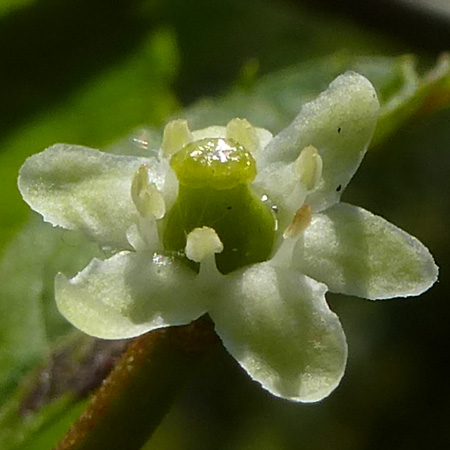 Another view of the female flower.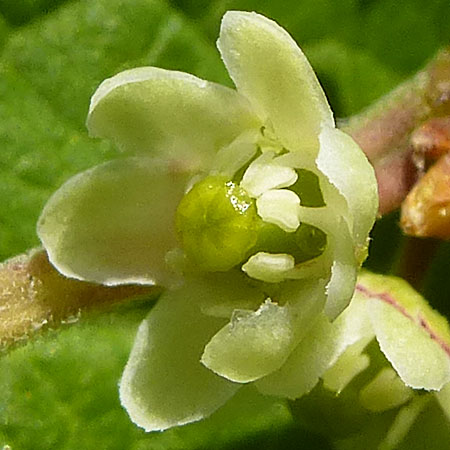 Male (staminate) flowers: Fertile stamens, sterile pistil
The winterberry holly male flowers form larger clusters of 3 to 10 flowers at the leaf axils along the branch.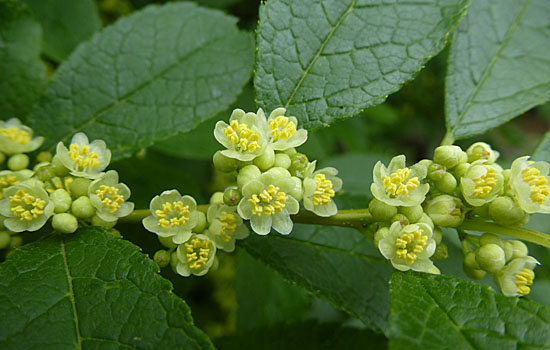 In the photo, the male flower has 7 petals and 7 fertile stamens. Easily seen is the anther structure of two lobes and each lobe splits into two parts to release its pollen. The anthers are covered with pollen especially near the opening.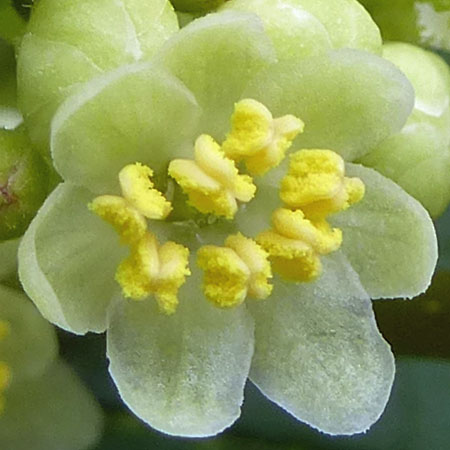 This flower has 6 petals and 6 stamens. These anthers are shriveled and the modified non-fertile pistil is seen. There is no stigma and the ovary is elongated forming a point at the top.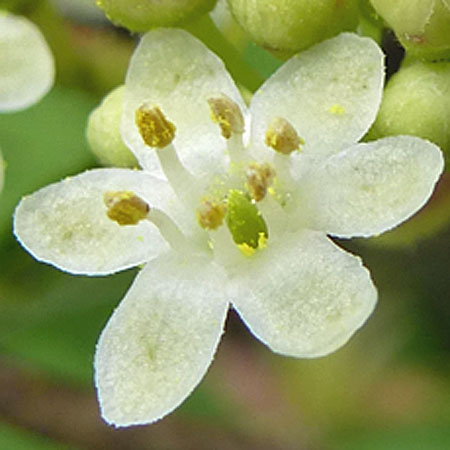 Another male flower.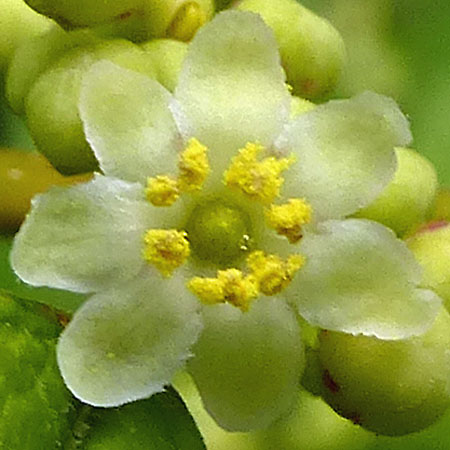 Fruit
The fruits ripen to bright red berry-like drupes. The drupes are about ¼ inch in diameter.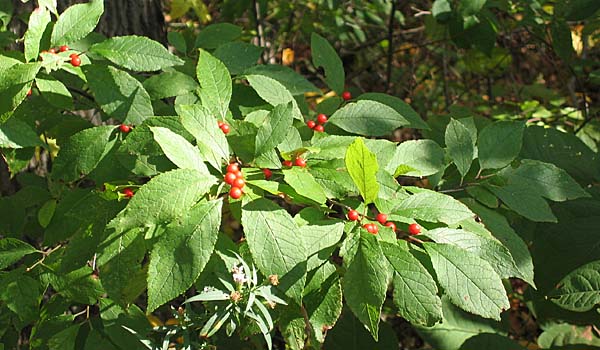 Leaves and Plant
Unlike some hollies, winterberry holly leaves are deciduous - they drop for the winter. The leaves are simple, alternate and up to about 4 inches long and 1 inch across and taper to a point. They are elliptic (widest at the middle) to ovate (widest below the middle) with serrated (sawlike with tips pointing forward) margins with minute projection at the tips.
This shrub grows to about 6-15 feet high.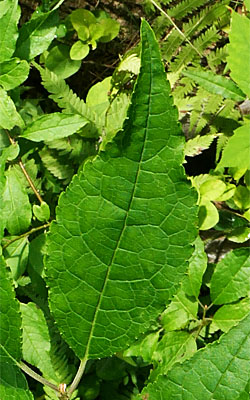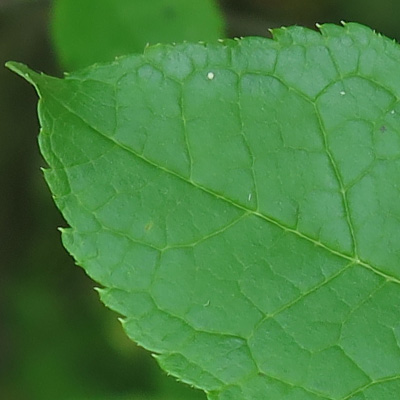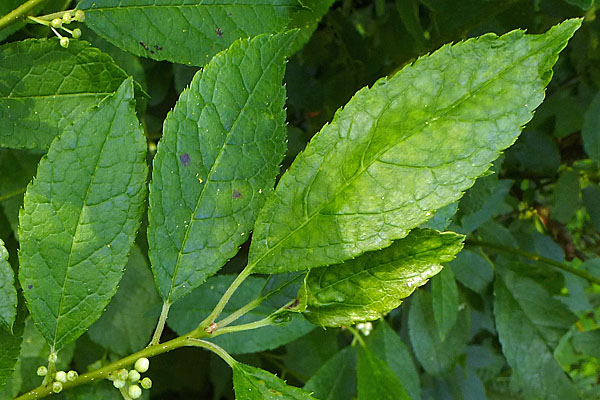 In the photos below, the leaf's upper surface is darker green, slightly hairy or not, with depressed veins. In contrast the underside is lighter green, very hairy, with raised veins.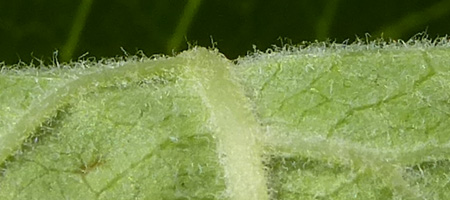 The bark has whitish raised lenticels. The lenticels are pores for gas exchange.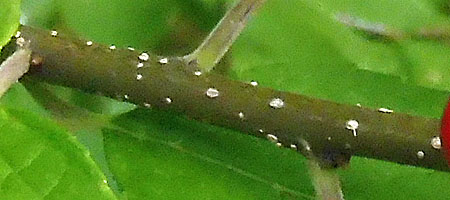 Habitat
Habitats include damp woodland edges, water edges, woods. The red berries are quite striking after the leaves have fallen.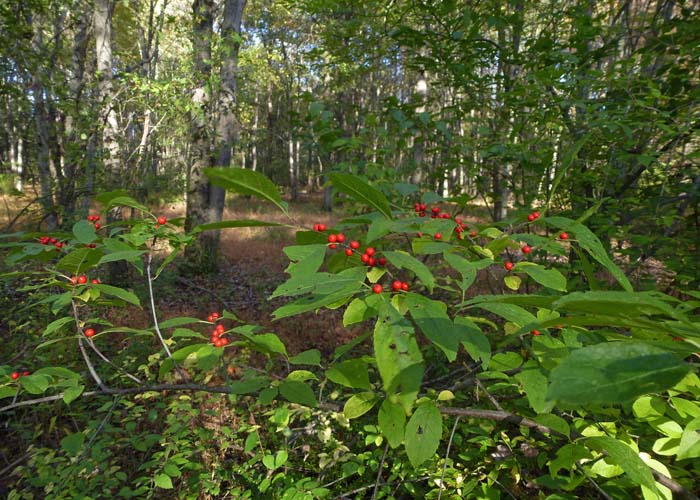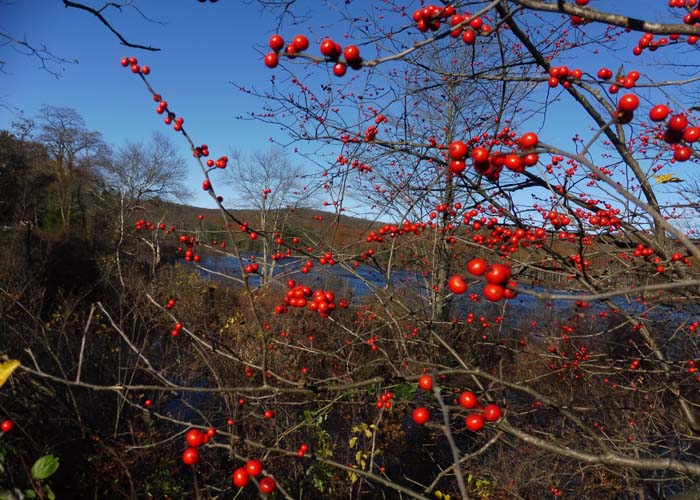 Text by Millie Ling and all photos by Hubert & Millie Ling. Photos: flowers - June, fruit - October, in cultivation, great swamp, and various parks/preserves mainly in central & northern Jersey
Cultivation
The cultivation material below is courtesy of Jersey Friendly Yards searchable plant database: Ilex verticillata
Bloom Times: Late Spring to Early Summer, Summer
Salt Tolerance: Low to None
Hardiness Zone: 6a, 6b, 7a, 7b
Soil Type: Loam, Organic, Clay
Soil Moisture: Moist, Wet
Soil pH: Acidic, Slightly Acidic, Neutral
Optimal Light: Full Sun
Light Range: Full Sun, Partial Shade
Drought Tolerance: Low
Growth Rate: Medium
Additional information